1,650th Store Opening!
Gong cha celebrated its 1,650th store opening in Christchurch, New Zealand in December. The newly opened store in the Northlands shopping mall, the second-largest shopping mall on New Zealand's South Island, marks yet another milestone in Gong cha's continued global expansion. Gong cha is a leading global tea shop brand with stores 1,650 stores now open in 20 different countries around the world.
The 37-square-meter store in Christchurch had its soft opening on December 16, with 376 cups of tea sold on opening day. The store offered a special launch promotion from December 28 to 30, offering one free cup of Milk Tea with Pearl with every drink sold.
"This is one of the best-looking stores with great use of Gong cha Global Interior Standards," said Gong cha Global Field Operations.
Tea Fit For Royalty
Gong Cha is the act of offering tea to the Emperor in ancient China as a tribute. This tea consumed by Chinese Emperors is of the best quality collected throughout the kingdom.
Gong Cha was originally established in 2006, in Kaohsiung, Taiwan. Now we are an international name with over 1,100 different stores in 20 countries with a worldwide reputation for serving the highest quality customizable beverages in the industry.
#1 Tea Franchise in 2022
We're honored to be ranked #1 in the Tea category in our debut appearance on Entrepreneur Magazine's prestigious Franchise 500 List! The world's first, and most comprehensive franchise ranking recognized Gong cha for its outstanding performance in areas including unit growth, financial strength and stability, and brand power. There is so much growth potential ahead for both the Gong cha brand and our partners, and we're actively seeking new master and sub-franchisees to join the team: www.gongchafranchising.com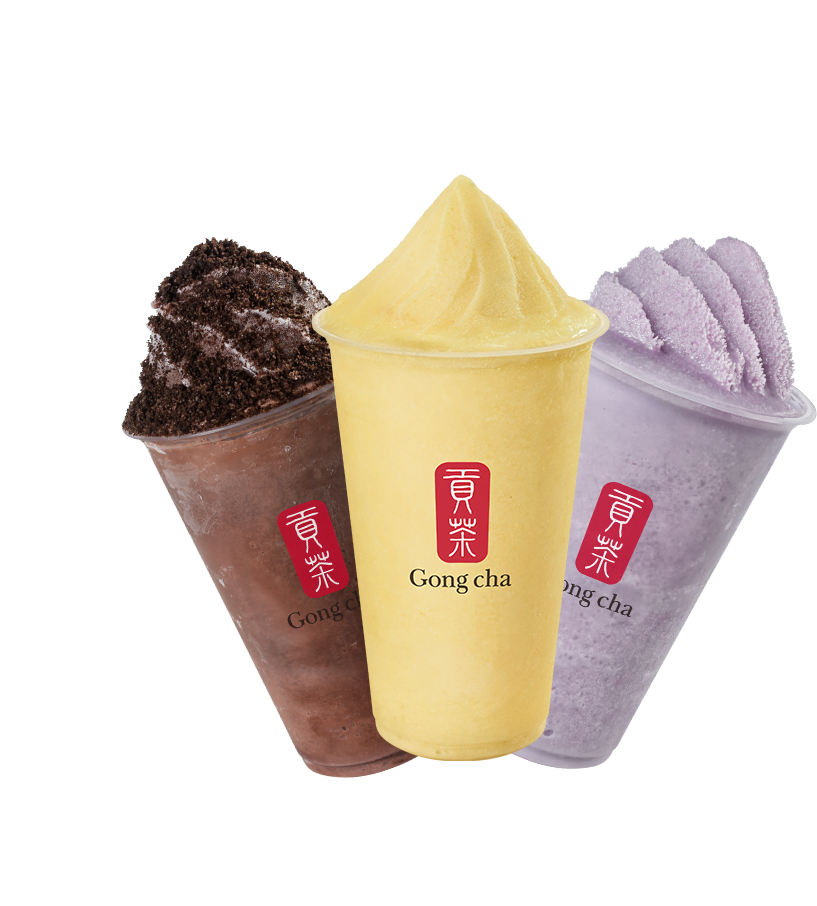 Brand Story
Tea is the flow of time. Tea is a wordless conversation. Tea is a fountain of inspiration, transforming each day into a leisurely journey of taste. Tea is life. It craves contemplation. It's worth savoring.
Awaken your senses with the fragrance of tea. Let its poetry permeate your life. Anything is possible, in a life enriched and empowered by tea.
Gong cha beckons to all lovers of tea. Tea captivates our hearts and invites us on an inspirational journey.
Because of Gong cha…
Every day, the streets and alleys are filled with the aromas of tea from around the world. Every moment, inspiration blooms and flows freely from tea's enchantment.
Tea Selection
Gong cha selects only the most premium tea leaves from tea growers in Taiwan and throughout Asia
Masterful Preparation
Gong cha's Tea Masters carefully infuse the tea into exciting and delicious drinks in a variety of unique recipes
Menu Innovation
Every season, Gong cha introduces new and enticing beverages that inspire and delight passionate customers
Core Value
Tea, Companion, Art, Taste, and Moment meld to form the essence of Gong cha and shape the world's culture of tea.
TEA
Made from only selected ingredients.
COMPANION
Our employees and our beloved customers are the purposes behind our tea.
ART
Our exquisite tea-making process.
TASTE
Presenting quality drinks that satisfy the five senses.
MOMENT
The brilliant and joyful moments that arise when savoring tea.
We believe in offering natural, healthy, freshly brewed tea and beverages that are tailored to individual taste and sweetness.
Find a Location
Specializing in Tea, Coffee & Juice
Our commitment to freshness is uncompromising, we use real fruit purees and brew our teas every four hours for optimal flavor and freshness. Our signature beverage, milk foam tea, even comes with instructions for the ultimate milk foam-stache. We value your wants and needs, so we tailor every cup to your individual taste and sweetness preference.
Gong Cha aims to change the way you enjoy your bubble tea, we have added unique elements to the ancient Chinese tea culture to successfully create a new tea trend for the world. With a superior range of teas and continuous development of new & innovative drinks, it's guaranteed there's a beverage for everyone!